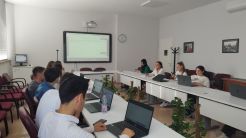 The Department of Economy and Business at the University College Bedër organized the workshop on "Fintech and Open Banking". The workshop was held online form the Associate Professor Gianluca Mattarocci, Tor Vergata University Roma, Italy.
The topics of the workshop were related to the new trends of investment in finance and banking sector following the innovations in technology. The students were introduced to these opportunities of online investment illustrated with actual examples from Italy and international corporations. An active interaction with the students was made possible using the Mentimeter software.
Professor Mattarocci encouraged the students of the bachelor program in "Economic Informatics" to continuously explore the newest opportunities of investment in Fintech and Open Banking in accordance to their study program.